Copyright Gateway Camaro Club 2018
Gateway Camaro Club: Poker Run
Cruisin' for Jack
(Courtesy of Staunton Star-Times)

The Gateway Camaro Club is hosting a Poker Run to benefit Jack Burke and his family on Sunday, Sept. 24. Jack is the 8-year-old son of Mike and Deidre Burke and grandson of Ron and Karla Dustman of Staunton.

Jack has cystic fibrosis and has been battling a serious lung disease for the last 18 months. His aggressive treatment plan is ongoing due to the complexity of his lung disease. Captain Jack is a fighter and has overcome many obstacles over the last few years, but his funny personality has remained the same. To keep up with Captain Jack, find his page on Facebook at JacksFight4aCure.

Jack's aunt and uncle, Anne and John Lieber of Labadie, Mo., are members of the Gateway Camaro Club and are excited to invite friends, family and the Staunton community to come out for a fun day and help out a local family. An account is set up at First National Bank of Staunton for Jack's ongoing medical expenses. Checks can be written to "Jack Burke Benefit Fund."

Their first stop will be in downtown Staunton so if you cannot do the poker run with them come line the streets leading into downtown Staunton to see Jack lead their parade of cars and motorcycles into his hometown like the hero he is. They hope to be in Staunton between 10:15 and 11 a.m.

All wheels are welcome to join in the fun. Registration begins at 9 a.m. at Laurie's Place, 228 North Main Street in Edwardsville and wheels out at 10 a.m. The poker run will go through Staunton and the final destination will be at The Loading Dock, 401 East Front Street in Grafton with live music from Trilogy. Prices are $20 entry/ driver and $15 per passenger. Prizes will be awarded for 1st, 2nd, and 3rd place poker hands. There will also be a 50/50 raffle, door prizes, raffle tickets and more. For more information, please contact the chairperson, Dawn Snodgrass, at dawnsnodgrass72@grnail.com or see their Facebook event Cruisin' for Jack.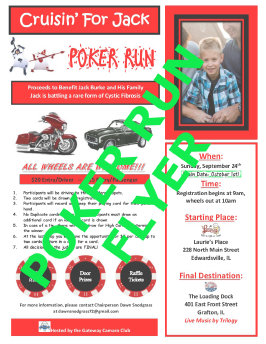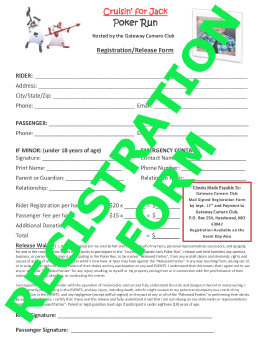 For Raffle ticket Info, contact: Patty81359@aol.com